Statistical summary after 4 days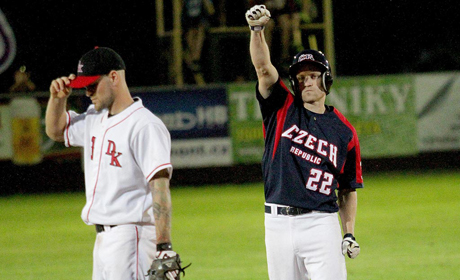 The round-robin stage is complete and it´s now time for the playoff round. We now present for you a statistical summary aftter six games played by each team.
Individual Batting
Of all players with a minimum of 15 at-bats in the first six games, the leading hitter of the tournament is Enrique Javier of the Netherlands, who is 8-for-15 for an average of .533. Anders Jorgensen of Denmark and Yaniv Rosenfeld of Israel are both batting exactly .500.
One of the top sluggers in this tournament is Karel Kadecka of the Czech Republic, who has 3 home runs and 12 RBI. Denmark´s Daniel Julenon also has 3 homers and 8 RBI, while teammate Anders Jorgensen has 2 homers and 9 RBI.
Individual Pitching
Surprisingly, the best earned-run average of the tournament belongs to Croatia´s Hrvoje Jerbic, thanks to a 6-inning effort against Israel in which he gave up 3 runs, all unearned, so his ERA is 0.00. Next is Great Britain´s Kyle Linton, whose ERA is 0.75 in 12 innings of work, thanks in large part to his no-hitter against Belgium. A pair of Czechs, Jaroslav Mueller (1.50) and Jaroslav Brenik (2.08) also have low averages, with opponents batting only .100 against Mueller.
British workhorse James Darby pitched 12 innings on Friday and leads the tournament overall with 27 innings pitched and 51 strikeouts, while Denmark´s Kim Hansen has the most wins with 3 and is second in strikeouts with 39.
Team Statistics
Not surprisingly, the 6-0 Czechs top the tournament in both team batting and team pitching stats. As a team they´re batting .398 and also have the best on-base percentage and slugging percentage. They also lead with 73 runs, 49 hits, 6 triples, 62 RBI and 44 walks. The Netherlands barely edge out Denmark for next-best average, .338 to .336. The Dutch lead with 11 doubles, while 13 Danish home runs are the most of any team and 22 strikeouts are the least.
The Czech Republic has a team ERA of 2.48 with only 8 earned runs against. They also have the fewest hits and walks allowed. Great Britain has the most strikeouts with 78, while opponents are batting only .154 against them.