Pardubice will welcome the best of European softball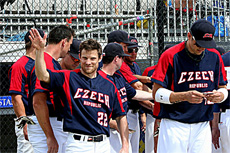 "Fastpitch Challenge 2014" is another one of the traditional series between the Czech republic and Denmark and it will take place in Pardubice's Krtkova arena just like two years ago. Since 16th to 18th of May the spectators in Eastern-Bohemian main town will have a chance to see the top softball performed by two medal candidates for this year's European championship, which will be played in Pardubice and Havlíčkův Brod. "It is one of the last posibilities to play really great softball before the championship," says headcoach Tomáš Kusý trying to invite the fans.
Krtkova arena is one of the best softball parks in the Czech republic and it will host the Fastpitch Challenge for the second time already. Just like in 2012, the Czechs and the Danish will play the main role again. These two teams collects medals regularly and now, they are going to play five mutual games since Friday up to Sunday. Besides that, the Czechs will play also against the junior national team, who prepare for Worlds in Canada two months from now.
"Six games in three days isn't way too much, we play like this for fourth year now. This tournament doesn't have any system, it's just a series of friendly games," explains the coach of national team Tomáš Kusý, who would like to find the optimal players for the championship there: "We nominated 17 players and we take this as a preparation. Of course I have a certain idea about the final squad for the championship, but it should be proven. We're going to cut the team on 20th of May, so the guys have a chance to show us their skills and get some international experience."
Some of the stable national team players weren't nominated, but noone can be sure about his name in the squad. "The older players, who won't be at Fastpitch Challenge here, might be thinking they will surely be in the final squad, but that's not necessary. I just know them well, so I don't need to see them again. However the nomination is still open and we're not going to play the Danish just because," said Kusý – a highly experienced coach, who set his team the highest goal possible for the championship.
The elite Czech softball players won't be surely missing the motivation to perform their best and the fans can await really great moments. "Denmark has a strong team and together with the Czech republic, the Netherlands and the Great Britain, they belong among the best in Europe. It's one of the last posibilities, to play really tough games before the championship," he tries to invite some spectators. Besides the Czech junior national team and the two mentioned, there will be also second division Pasos from Pardubice, who'll challenge the Danish and the Czech juniors.
<
Nomination:

	Name	Club
1	Jaroslav Müller	Hroši Havlíčkův Brod
2	Petr Frejlach	Žraloci Ledenice
3	Ondřej Maleček	Spectrum Praha
4	Jan Borovka	Žraloci Ledenice
5	Lukáš Holub	Radotínský SK
6	Ondřej Müller	Hroši Havlíčkův Brod
7	Bartoloměj Řízek	Eagles Praha
8	Tomáš Petr	Spectrum Praha
9	Tomáš Voborník	Spectrum Praha
10	Pavel Štoček	Tempo Praha
11	Pavel Just	Hroši Havlíčkův Brod
12	Tomáš Klein	Spectrum Praha
13	Svatopluk Smysl	Tempo Praha
14	Tomáš Benda	Eagles Praha
15	Jiří Brabec	Tempo Praha
16	Tomáš Jelínek 	Hroši Havlíčkův Brod
17	Jiří Nezbeda	Beavers Chomutov