Statistics summary after 2 days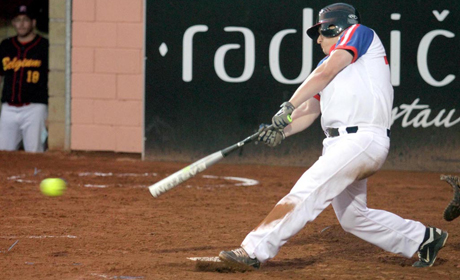 The 2014 European Men´s Softball Championship are only two days old, but we´ve summarized some of the individual and team statistics for you. Individual batting has been dominated so far by the Dutch and Czechs, pitching by the Brits and the Danes, while the 4-0 Czechs lead most team stats in both categories.
Individual Batting
The Dutch have the highest batters for average after two days. Of players with at least 5 at-bats, the Netherlands´ Tim Verbrugge has the best batting average in the tournament -- he´s 4-for-6, for an average of .667, followed by Randy Lo-A-Tjong at .600 and Enrique Javier at .571. The Czech Republic´s Vaclav Svoboda is also 4-for-7 for a .571, with Pavel Just and Israel´s Yaniv Rosenfeld just behind at .556.
With 5 hits each, Just and Rosenfeld are the tournament leaders in that category so far. Just is also second in runs scored with 7, one behind teammate Tomas Jelinek. Not surprisingly, many Czechs dominate individual categories -- Karel Kadlecka has 9 RBI, Tomas Klein has 3 doubles, while Bartolemej Rizek and Great Britain´s Kenneth Pregnell both have 2 triples. Kadlecka along with Denmark´s Daniel Julenon and the Netherlands´ Anthony Beaumont have all hit 2 home runs.
Individual Pitching
British and Danish pitchers have dominated a lot of the individual pitching categories. With a no-hitter in his only appearance so far, Kyle Linton´s numbers are perfect -- no runs, no hits and 1 walk against, and 17 strikeouts in 7 innings of work. That gives him the best OBA and ERA of the tournament so far, with the Netherlands´ Jeffrey Visser next in terms of ERA with 1.11 (1 earned run in 6 1/3 innings), followed by a pair of Danes -- Vlademar Terkelsen is 2.00 and Kim Hansen 2.33. Visser and Hansen both have 2 wins to their credit.
Britain´s James Darby leads all pitchers with 24 strikeouts, followed by Hansen with 23. Those two pitchers both racked up a lot of "K"s in their head-to-head match-up on Tuesday night. The busiest pitcher so far has been Israel´s Michael Marunov with 14 innings pitched.
Team Statistics
Overall, the Czech Republic has the best team batting and pitching statistics. Their team batting average of .481, on-base percentage of .626, slugging percentage of .949 are all tops. They also lead with 59 runs, 38 hits, 10 doubles, 6 triples, and 49 RBI, while Czech hitters have struck out a tournament-low 3 times. The only important team batting stat that they don´t lead in is home runs -- the Netherlands, second in most offensive categories, have 6, while the Czechs and Denmark both have 5.
In four games, the Czechs have only given up 1 earned run on 6 hits and issued 3 walks, meaning they dominate pitching as well. The team ERA of 0.60 is by far the best and OBA of .118 is second -- opposing hitters are batting only .111 against Great Britain. The Brits also lead with 41 strikeouts, while Denmark is near the top in many categories, but don´t lead in any.