Daily summary: Czechs in Final, Dutch earn medal in thriller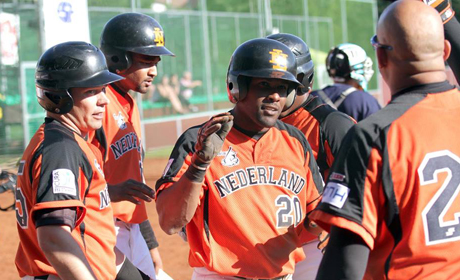 There were three games on the second-to-last day of the European Championship. Belgium beat Croatia in the consolation round, the Netherlands beat Great Britain on an inside-the-park walk-off home run by Emeron Lourens to clinch a medal and a spot in next year´s World Championship, and the Czech Republic beat Denmark to earn a place in Saturday´s final.
Plenty of mistakes by the Croatian battery turned this game into an easy-looking win for the Belgians, who took advantage of most of them scoring on three wild pitches and two passed balls with runners on third base.
An absolutely amazing climax to a wonderful game with a cruel end for the Brits was to be seen in a direct clash for the last spot in the World Championship tournament. Team GB was ahead most of the time, but the Dutchmen equalized in the fifth inning and Emeron Lourens hit a home run in bottom of seventh inning to launch the Dutch dugout into enormous joy.
It was a very similar game to the first one between these two teams here at the European Championship, as the Danes went in front and lost their lead later on a Karel Kadecka home run. This one came against another local player, with Kim Hansen pitching to his first batter after relieving Valdemar Terkelsen.