Final statistical summary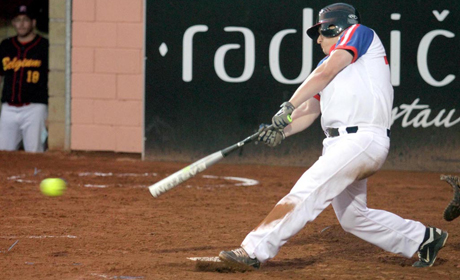 The gold medalists, the 8-0 Czechs, were dominant in most individual and team categories, but some other teams had some shining stars as well. Denmark, the Netherlands, Great Britain and even Israel got some fine performances and had some batters and pitchers near the top of some individual categories.
Individual Batting
When looking at the individual batting statistics, the first thing one notices is a lack of any Czech batters at the top of the list. That is because a batter needs to average at least 2.5 at bats per game to qualify. However, the top Czech hitters were walked so often that they didn´t qualify. Bartolomej Rizek was 6-for-9 (.667) in the tournament with 2 doubles and 2 triples and walked 6 times. The same goes for Denmark´s Daniel Julenon, another dangerous slugger, who went 7-for-13 (.538) with 4 home runs and 9 bases on balls. Instead, the batting crown goes to Israel´s Yaniv Rosenfeld, who went 11-for-22 and walked only once. He hit a home run and a triple in his team´s last game, a 4-0 win over Belgium which clinched fifth place for Israel.
Rosenfeld´s 11 hits were second-best in the tournament behind Denmark´s Anders Jorgensen, who had 12. Julenon´s 4 homers tied for the lead with Czech Karel Kadecka, and Kadecka ran away with the RBI title with 17, as he showed a tendency to come up with big hits with runners on base, including a grand slam in the semi-final. All of that helped the Czech slugger earn the tournament MVP award.
Individual Pitching
As for pitching, a pair of Czechs had the two best ERAs of the tournament: Jaroslav Mueller (0.82) and Jaroslav Brenik (1.32). Both of them were helped out by timely performances in the team´s last two games against Denmark.
The busiest pitcher of the tournament was Israel´s Michael Marunov, with 31 1/3 innings pitched. He pitched a complete-game 1-hitter in his team´s last game against Belgium. The strikeout leader was Denmark´s Kim Hansen with 54, who passed Great Britain´s James Darby in the last game. Darby had 52 and led in that department for most of the tournament. Hansen also led in wins, shutouts and complete games, and was tied with Jeffrey Visser of the Netherlands for starts and appearances.
Team Statistics
The 8-0 Czechs finished tops in team batting, pitching and fielding categories. They led the tournament with a .402 team batting average, 90 runs scored, 68 hits, 14 doubles, 7 triples, 50 bases on balls, while struck out only 33 times. They also led with a 2.05 team ERA and gave up only 12 earned runs and 13 bases on balls. The Czechs and Great Britain both had identical .982 fielding percentages, with both teams committing only 3 errors in the whole tournament.
The Czechs didn´t lead in all categories, though. The Danes slugged out 17 home runs, by far the most, and stole 9 bases. Great Britain had the most strikeouts with 87 and gave up a tournament-low 24 hits.