Netherlands smashes poor Croatian defence in one-sided win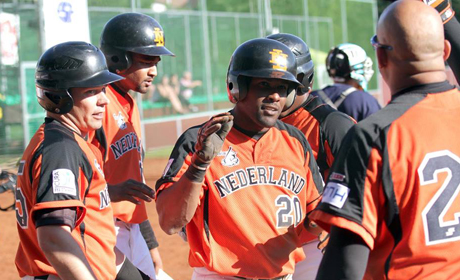 The Croats were 2-0 up after the first inning and it seemed like they could surprise with a nice result against a strong opponent, but they collapsed defensively late and lost by a mercy rule in the fourth inning.
date: 15.07.2014
time: 11:00
areal: Pardubice
Inning
1
2
3
4
5
6
7
T
R
H
E
Croatia
2
0
0
0
2
11
0
Netherlands
0
8
8
16
4
0
| Winning Pitcher | Losing Pitcher | Umpires |
| --- | --- | --- |
| Visser | Sket | Růžička, Singer, Arno |
Croatia

Balen 2B
Njuhovic PR
Sojanovic C
Maljkovic PH
Kamenski RF
Dokmanovic CF/P
Mandic SS/LF
Sket P/SS
Jerbic DP
Cacan 1B
Matisic PR
Antolovic 3B
Babic LF/CF
Ivancic C/2B-flex

Netherlands

Reiph CF/1B
Javier 1B/2B
Rietvink 1B
Dijkhof DP
Polonius DP
Flanegin 2B
Lourens PR/SS
Beaumont C
Lo-A-Tjong 3B
Brooks RF
Raap PH/CF
Wouters SS/RF
Verbrugge LF
Nieuwenhuizen P-flex
Visser P
Surprising start of the game as the Croats finished two runs in the first inning. Sket's single RBI with bases loaded brought home the first one and then Kamenski walked from third after Cacan was hit by pitch.
The Dutch were a bit careful in the bottom of the same inning, but they completely turned the scoreline around in the second when Beaumont and Javier both hit home runs and in total there were 8 runs for the Netherlands. Three of their players were twice at bat as their whole lineup turned over with two outs only.
Even though it didn't look like they would in the beginning, the Dutchmen brought the game to a finish after the third inning, as they scored one after another all the time. They also hit two more home runs (Raap and Wouters) and in the end they also managed to score 8 more runs. Only one was missing to the end, but the third out came just in time for the Croats with another runner left on third base.
However, since the Croats didn't score in the top of the fourth, the game ended right afterwards.
Post-game comments
Vladimir Hajak (Croatia): We started really well and we scored some valuable runs in the first inning. Then it was worse and the Dutchmen played just much better. We have to improve our batting for the next game.
Israel Nukunuku (Netherlands): We didn´t start well this game which immediately appeared on the scoreboard. With some time, we played better and better and we turned it around completely. I´m glad also for four homeruns from four different players.