Big win for the Czechs playing against one of the favorites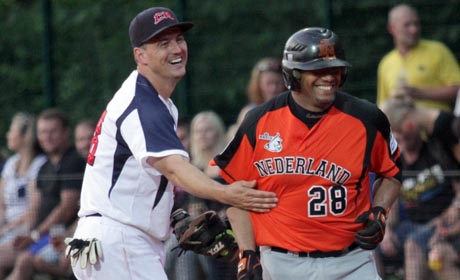 Just like in their first three games, the tournament hosts kept hitting well and started adding runs right from the beginning. An emotional start resulted into ejection of Israel Nukunuku, who watched rest of the game from the stands. His team lost 10-0 in four innings.
date: 15.07.2014
time: 19:30
areal: Pardubice
Inning
1
2
3
4
5
6
7
T
R
H
E
Czech republic
4
3
2
1
10
8
0
Netherlands
0
0
0
0
0
1
1
| Winning Pitcher | Losing Pitcher | Umpires |
| --- | --- | --- |
| Breník | Baanen | Machalet, van Nuffel, Arno |
Czech Republic

David Mertl C
Petr Vacha CF
Patrik Kolkus 1B
Vaclav Svoboda 2B
Tomas Benda LF
Karel Kadecka 3B
Pavel Just DP
Tomas Petr SS
Jiri Nezbeda RF
Jaroslav Brenik P

Netherlands

Randy Reiph CF
Glennsig Polonius 2B
Enrique Javier C
Eldrick Dijkhof SS
Jerom Wouters DP
Emeron Lourens 3B
Revin Brooks RF
Idelgardo Raap LF
Sergio Flanegin 1B
Niek Nieuwenhutzen P
The Czechs started brilliantly and Arjan Baanen had some serious trouble pitching. At first he conceded one run when Mertl scored after a sacrifice fly to the outfield, then he let Kadecka hit a home run with two runners on base. One pitch before Kadecka sent the ball over the fence, there was a close call, which could have struck him out. The Dutch coach didn't like it and after a dispute with the umpire, he was sent out.
On the other side, the Dutchmen struggled at bat, but the Czechs kept their pace. Benda's long hit with the bases loaded and an error by the left fielder resulted in 3 more runs. Bad luck for the Netherlands and for more, Beaumont was sent out as well after he was called out on strikes.
The Czechs controlled the game and the scoreline. In the third inning, they scored again. At first, with Mertl's double into left field, then also with Svoboda's big hit close to the foul line which pulled Mertl home. Just then added the 10th run with a passed ball and a sprint from third base.
Post-game comments
Tomas Kusy (Czech Republic): Today´s game was settled by its beginning. We managed to load the bases and then there was that homerun, which turned the scoreline to our side. Also the performance of Jaroslav Brenik on the pitcher was important since he didn´t let anything happen. It was a classic game against the Dutchmen. When it´s not going their direction, they push.
Israel Nukunuku (Netherlands): It was not a need-to-win game for us. We put in our second and third pitchers to pitch. We rested our main pitcher and he´ll probably rest also tomorrow in the first game, because we want to make sure to win over Belgium later and qualify.