First tie-breaker goes to Belgium, who had a hard time playing Croatia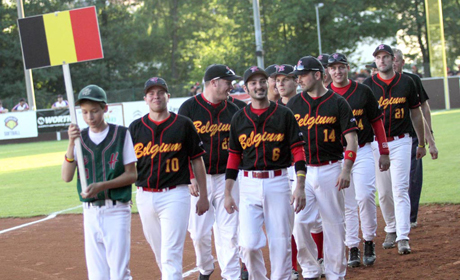 Most of the time, it looked like a clear win for the Belges who scored five runs in the first inning, but the Croats fought back in the bottom of seventh with four runs to make it even. Anyway the fortune still stood on the Belge side in the tiebreak and let them win by two runs.
date: 16.07.2014
time: 10:00
areal: Havlíčkův Brod
Inning
1
2
3
4
5
6
7
T
R
H
E
Belgium
5
0
0
0
0
0
0
2
7
10
2
Croatia
0
1
0
0
0
0
4
0
5
8
3
| Winning Pitcher | Losing Pitcher | Umpires |
| --- | --- | --- |
| Zelenka | Kukolja | Howie Litz, Jan Hora, Jesper Arno |
Starting line-ups

Belgium

Huyghe SS
Swers CF
Cnops P
Zelenka 1B
de Groote 2B
de Vriendt C
van Aarsen DP
van Nuffel 3B
Guequet LF
van de Weyer RF

Croatia

Dalen 2B
Kamenski RF
Dokmanović CF
Mandić LF
Sket Christian SS
Jerbić DP
Hajak 1B
Antolović 3B
Maljković C
Kukolja P
It seemed like it might be a tight game since both teams were still waiting for their first win, but Belgium denied that scenario already in the first inning. Fielding error in centre field allowed Huyghe to score after single hit by Cnops. Cnops then scored from third after De Groote's double and right after, De Vriendt singled but with another error, it was RBI double. Van Nuffel's hit just between first base and right field pulled down De Vriendt with the fifth run.
Croatia managed to score in the second inning thanks to Jerbic's double to the left field, but that was it. Cnops performed well on board and didn't allow many hits. Thanks to that, there weren't many runs in the rest of the game. On the other hand we've seen some amazing defensive plays just as in the sixth inning, when Geuquet threw an amazing ball from left field to the third base to set Jerbic out.
In the seventh inning, Hajak got on the second base after two errors and after Antolovic's double, he got home with second run and Antolovic took the second. With another throwing error, this time by Huyghe, he scored right afterwards with Maljkovic's single hit. That narrowed the gap on two points difference and Croats had still no players out.
Later the Croats loaded all bases still with nobody out and the Belgs decided to change pithcers. Zelenka took the spot. However, the inevitable happened. Magdelanic singled through the inner field and the Croats equalized with runs by Ivancic and Magdelanic. Jerbic could have win it, but Zelenka struck him out.
Belge Coach Thilemans took the spot on the second base and got home with De Vriendt's double into right field and Van Nuffel's single pulled De Vriendt home.
Stefan Thilemans (Belgium): We maybe thought we could go through like we did in the first inning, but it didn't go as well. We hit the balls too high, which made it easier for them and in the end, we made some errors, which let them send it to tiebreak. Eventually, we scored and held it with new pitcher. So far, we played Denmark, Czech Rep. and GB. That was too high level for us, now the tournament starts for us.
Vladimir Hajak (Croatia): At the end of the game we were very close. Belgium took big lead 5-0 in the first inning. Then our pitcher did very good job. They didn´t have any hit till 6th or 7th inning. We came back and tied the score. In extra inning they had more luck, so they won today. We were very close and I believe that we will win in the next game.