Dutch take step toward playoffs, beat GB in 8 innings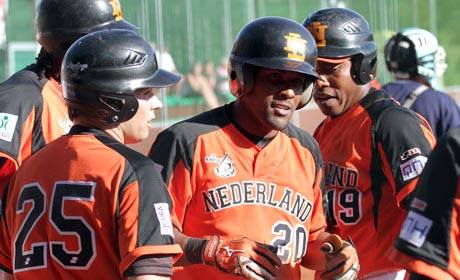 It was a back-and-forth game full of emotions that was tied 4-4 after seven innings. In the top of the eighth, the Netherlands pushed 4 runs across and Great Britain couldn´t answer. Britain´s Ryan Martin hit a 3-run triple in his team´s big fifth inning, while Revin Brooks drove in two Dutch runs in the eighth.
date: 16.07.2014
time: 12:30
areal: Havlíčkův Brod
Inning
1
2
3
4
5
6
7
T
R
H
E
Netherlands
2
0
0
0
0
2
0
4
8
7
2
Great Britain
0
0
0
4
0
0
0
0
4
3
3
| Winning Pitcher | Losing Pitcher | Umpires |
| --- | --- | --- |
| Arjan Baanen | James Darby | Benny van Nuffel, Brian Aron, Jan Hora |
British starting pitcher Kyle Linton was coming off a no-hitter in his last outing, but after striking out the two batters he faced, he issued a walk and 2 hits and the Dutch scored the first two runs of this game. He then settled down and shut out the Dutch over the next three innings. Jeffry Visser started for the Netherlands and kept the Brits hitless through three innings, but then they exploded.
Great Britain loaded the bases in the bottom of the fourth on a hit batsman, a walk and a throwing error. Things looked bad for Vissser, but then he struck out Morgan Ottridge and got Robert Robison to hit a one-hopper to third base, which cut down the runner going home. With two outs, it looked like he was working his way out of the jam, but then Ryan Martin hit a bases-clearing triple into the gap in left-center to put his team in the lead. Kenny Pregnell then singled up the middle to score Martin and make it 4-2 Britain after four.
James Darby came in to pitch for Britain in the sixth inning and walked the first batter he faced, Randy Reiph, who then scored all the way from first on a single by Javier combined with an error. Mike Rietvink then ran for Javier and ended up scoring on a wild pitch to tie the score.
Team GB had a golden chance to win the game in the bottom of the seventh when Kevin Stockford hit a one-out triple, but with the infield in Darren Newson lined out to shortstop and Luke Peeters grounded out to third base, and Dutch first baseman Javier made a great game-saving play to scoop the throw out of the dirt.
"We had a chance to win it in the seventh inning and didn´t," said British coach Norm Ames. "I think the other team had a lot of luck had, which we didn´t have yesterday against Denmark. Maybe next time we win."
Starting with a runner on second base due to international tie-breaking rules, Grennsig Polonius ended up scoring on a wild pitch with two out. Then, with two runners on, Revin Brooks broke the game open with a double to left-center, tried to stretch it into a triple and ended up scoring on a controversial play at third base in which the ball got past Newson. The Brits were unable to answer in the bottom of the inning, and the Netherlands won 8-4.
"Today we played softball, and we were much better than last night against the Czechs," said Dutch coach Israel Nukunuku. "We were fast, we managed to make plays and in the end we deserved to win."