Three pitchers for Netherlands controlled win over Belgium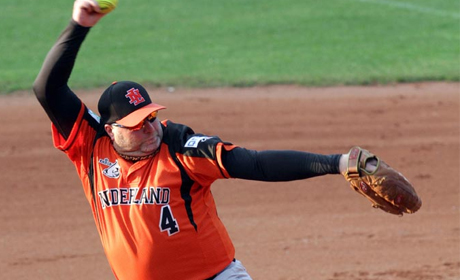 It was an interesting game since most of the Dutchmen play regularly in the Belge league. However they proved their qualities and took a big lead right in the beginning, which they carried through the rest of the game.
date: 17.07.2014
time: 09:30
areal: Havlíčkův Brod
Inning
1
2
3
4
5
6
7
T
R
H
E
Belgium
0
0
3
0
0
3
2
4
Netherlands
5
2
1
2
10
7
0
| Winning Pitcher | Losing Pitcher | Umpires |
| --- | --- | --- |
| Baanen | Cnops | Singer, Litz, Hora |
Starting line-ups

Belgium

Huyghe SS
de Vriendt C
Cnops P
van Aarsen 1B
de Groote 2B
van Nuffel 3B
Swers CF
Geuquet LF
Celie RF

Netherlands

Reiph RF
Verbrugge LF
Javier 1B
Dijkhof SS
Beaumont C
Lo-a-Tjong DP
Visser P
Raap CF
Rietvink 2B
Lourens 3B
The Dutchmen started great as they scored five early runs in the first inning with Javier's, Dijkhof's and Lo-a-tjong's RBIs and Visser's 2 RBI. They also added two more runs in the second inning and it looked very well with them.
Visser was pitching brilliantly and threw three strikeouts in the second inning. He was substituted by Nieuwenhiuze, who hit Swers at bat with his first pitch and then allowed him to go to third base with two more wild pitches. Not a good start and another quick substitution, this time Baanen took the spot and did well.
Despite the fact he started with a wild pitch as well allowing Swers to score and right after letting Huyghe hit 2 RBI, that was it for the game and he managed to go rest of the game harmless.
On the other side, Netherlands scored in third and fourth inning as well reaching the obligatory difference to end the game in fifth one by mercy rule.
Post-game comments
Stefan Thielmans (Belgium): We have problems with the pitching, because our pither Jan is injured. So Wout had to pitch again. It was his third game in two days, so it was a little bit tougher for him. We didn't start well, the moral was really down, and we never got into the game. So nothing to do about it.
Israel Nukunuku (Netherlands): I´m satisfied, we played well. Our pitcher threw some good strikeouts. We still have a game against Denmark in front of us, which will be probably the most difficult opponent to beat, but that´s what we have to do if we want to go to the Worlds and that´s why we´re here.