Denmark defeats Croatia in 4 innings with 4 homers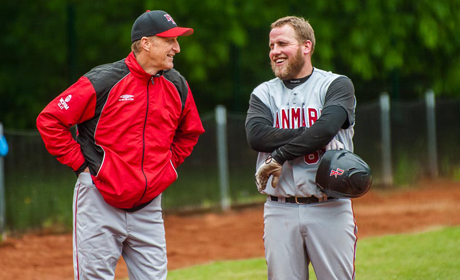 It was a home-run show from the Danes, who hit four of them beating Croatia in what was clearly a one-sided game. Each inning, Denmark scored more runs than the previous and, since they didn't concede any with their solid defence, they had a nice warm-up game for their game against the Dutchmen in the evening.
date: 17.07.2014
time: 12:00
areal: Havlíčkův Brod
Inning
1
2
3
4
5
6
7
T
R
H
E
Denmark
1
4
5
7
17
11
1
Croatia
0
0
0
0
0
1
1
| Winning Pitcher | Losing Pitcher | Umpires |
| --- | --- | --- |
| V. Terkelsen | Njuhović | Raoul Machalet, Jan Hora, Brian Aron |
Starting line-ups

Denmark

V. Terkelsen P
Jorgensen DP
Simonsen CF
A. Hansen C
Fernandez 3B
Weichardt 1B
Mortensen 2B
Andersen LF
Nielsen RF
Brewerton SS

Croatia

Magdalenić LF
Hajak 1B
Jerbić DP
Sket SS
Dokmanović CF
Antolović 3B
Maljković C
Njuhović P
Kamenski RF
Ivancić 2B
The Croats did well in the beginning when they allowed Denmark only one run after Fernandez's single, but they didn't catch their opponent in the bottom and the Danes improved. Simonsen hit first homerun of the game with two runners on base. Mortensen then singled to shorstop to make it 5-0.
In the third inning Jorgensen, A. Hansen and Mortensen pulled home five more runs with couple of nice hits. The Danes did well at bat and kept calm in defense as well. In fourth inning, they increased their lead with three more homeruns.
Valdemar Terkelsen, one of the two sons of coach Jens Terkelsen, hit one for 2 RBI. Another 2 RBI came later from A. Hansen who homered it to the left field and finally Andersen finished the inning with third homerun, this time for three points. After fourth inning, the game ended by mercy rule.
Post-game comments
Jens Terkelsen (Denmark): I think it was an ok game. We expect to win and should win every time in a game like this. The boys did a good job. We have some guys, who didn´t play that much earlier, but they came in and played well. We didn´t swing at balls, only strikes and we got some homeruns, which was fine. Back to the hotel now and get ready for Netherlands.
Vladimir Hajak (Croatia): We knew how the game will progress. We wanted to stay in it as long as possible and hit more pitches, but we know that the most important game for us is going to be the one tomorrow. We will play with our first pitcher and best nine players. I believe we can win it.