Denmark secured World Championships spot with a win over Netherlands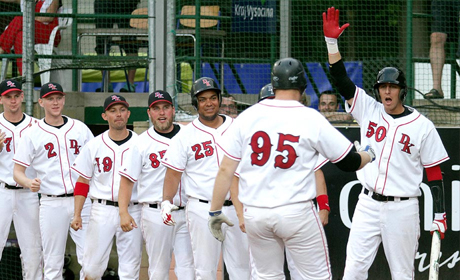 Big win for the Danes as they defeated Netherlands and secured second place in the group, bronze medal from this tournament and mainly spot in the next year´s World Championship, which will take place in Whitehorse, Yukon in Canada.
date: 17.07.2014
time: 17:00
areal: Havlíčkův Brod
Inning
1
2
3
4
5
6
7
T
R
H
E
Netherlands
0
0
3
0
0
3
4
2
Denmark
2
5
1
0
2
10
8
0
| Winning Pitcher | Losing Pitcher | Umpires |
| --- | --- | --- |
| K. Hansen | Visser | Jan Hora, Brian Aron, Raoul Machalet |
Starting lineups

Denmark

V. Terkelsen RF
Jorgensen C
F. Terkelsen 1B
Julenon DP
Silleman LF
A. Hansen 3B
Simonsen CF
K. Hansen P
Brewerton 2B
Kihlgast SS

Netherlands

Reiph RF
Verbrugge LF
Javier 1B
Dijkhoff SS
Beaumont C
Lo-a-Tjong DP
Polonius 2B
Raap CF
Visser P
Lourens 3B
Denmark took the lead in bottom of first inning when A. Hansen singled with bases loaded and pulled home two runs. The Dutchmen struggled at bat and in the second inning, they even conceeded five more runs. At first, similar situation to the first inning repeated only this time it was V. Terkelsen who singled two more runs. However the main thing was Julenon's 3 RBI home run with a complete blast way over the outfield fence.
Amazing start of the Danes was tough for the Dutch, who had to improve well and as soon as possible. Verbrugge doubled with two runners on base, which decreased the gap by two and Javier added a single letting Verbrugge run home with the third one, but V. Terkelsen managed to score in the bottom on a throwing error by Beaumont and the gap was still by 5 runs.
Since nobody scored in the fourth inning, the Dutchmen were close to defeat by mercy rule and the Danes in fact finished them in bottom of fifth inning. Jorgensen's single into left field brought home both players, who were on base that time and basicly booked his team a place in the upcoming World Championship as well as at least bronze medal from this tournament. However the hopes of Denmark are definitely higher.
Post-game comments
Jens Terkelsen (Denmark): I'm very satisfied, obviously. The guys stepped up, batted well from beginning of the game. I think we even scored several runs with two outs already, which was important as well. Really nice batting and even though some guys struggled, there was everytime someone else to pick it up. Except from that one inning, even the pitching worked perfectly. First goal – top 3 is done. Now we can refocus on tomorrow's game against the Czechs. I hope the fans will be there like yesterday because it's gonna be a good game.
Israel Nukunuku (Nederland): I´m not so sad, because we still live. We started bad. We were bad at first and second inning and we had very poor pitching, but we are still fighting for the World Series. Tomorrow we have last chance. We have to play harder and hopefully we´ll have more luck.