Belgium wins over Croatia on wild pitches and passed balls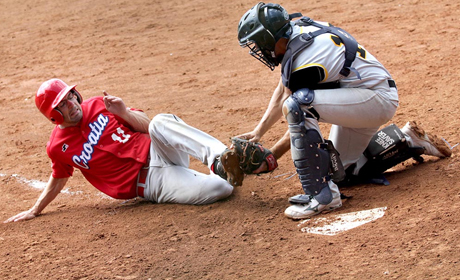 Plenty of mistakes by the Croatian battery turned this game into an easy looking win for the Belges, who took advantage of most of them scoring on three wild pitches and two passed balls with runners on third base.
date: 18.07.2014
time: 14:00
areal: Havlíčkův Brod
Inning
1
2
3
4
5
6
7
T
R
H
E
Belgium
2
1
0
2
1
3
9
4
1
Croatia
1
1
0
0
0
0
2
4
2
| Winning Pitcher | Losing Pitcher | Umpires |
| --- | --- | --- |
| Cnops | Jerbić | Brian Aron, Christian Singer, Howie Litz |
Starting line-ups

Belgium

Huyghe SS
Swers 1B
de Vriendt C
van Aarsen P
de Groote RF
van Nuffel 3B
Verelst CF
van de Weyer 2B
Guequet LF

Croatia

Balen DP
Magdalenić C
Jerbić P
Sket Christian SS
Dokmanović CF
Mandić LF
Hajak 1B
Antolović 3B
Kamenski RF
Maljković 2B
Just like in the first mutual game between these opponents, Belgium started as a visiting team in top and took the lead in first inning. Jerbic started pitching, but didn't do so well in the beginning. He hit Huyghe with his first pitch, then gave base on balls to Swers and let both of them move into scoring postition with a wild pitch. Another wild pitch then allowed Huyghe complete his run and score and with de Groote's double hit Swers scored as well.
Dokmanovic singled in bottom of the inning and Magdelanic managed to score from second base to decrase the gap, but Belgium anwsered in the second inning with van de Weyer's run, again on a base on balls and two wild pitches alongside with sacrifice of Geuquet. However Cnops made few mistakes as well and also threw a wild pitch with bases loaded restulting in a run for the opponent.
Geuquet scored the fourth one in fourth inning when he proceeded to third base on throwing error and back home after RBI single of Swers. Passed ball then opened the home base for Huyghe. For more in the fifth inning Celie scored as a pinch runner when he stole second base, due to a throwing error got the third one and scored on another passed ball.
It didn't look very well with the Croats. Even though they managed to score four runs in the previous game against the Belges, it is not a situation they wanted to be in plus Jerbic's co-operation with his catcher Magdelanic wasn't ideal for sure.
That also resulted in three more runs of Belgium in the sixth inning, which finished the game for good. At first Geuquet brought home another point on a wild pitch and then de Vriendt singled for 2 RBI.
Post-game comments
Vladimir Hajak (Croatia): We maybe expected a little bit too much. We wanted to win, but we let too many runners on base and then when they had some hits, they scored a lot. On the other side we couldn´t hit while having our runners in scoring positions. Sometimes we had a good contact, but it always went straight to their players.
Stefan Thilemans (Belgium): I am really satisfied, because we had a kind of handicap today. Two of our pitchers are injured and we also have a lot of small injuries, but we played with character today and I am really happy about that. I think the Croats were trying to throw too hard, the ball didn't hit the crease point and that's why there were so many mistakes. It was good for us because we scored some runs from that.