Lourens' walk-off inside-the-park homer sends Netherlands to Worlds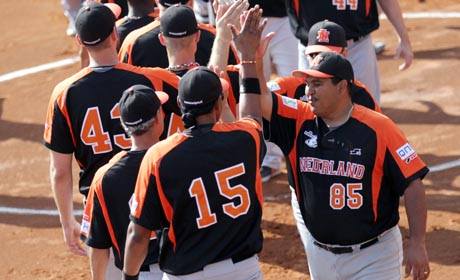 Absolutely amazing climax to a wonderful game with a cruel end for Brits was to see in the direct clash for the last spot in the World Championship tournament. Team GB was ahead most of the time, but the Dutchmen equalized in the fifth inning and Lourens' home run in bottom of seventh inning launched enormous joy in the Dutch dugout.
date: 18.07.2014
time: 17:00
areal: Havlíčkův Brod
Inning
1
2
3
4
5
6
7
T
R
H
E
Great Britain
0
0
2
0
0
0
0
2
6
0
Netherlands
0
0
0
0
2
0
1
3
4
1
| Winning Pitcher | Losing Pitcher | Umpires |
| --- | --- | --- |
| Visser | Darby | Jesper Arno, Howie Litz, Jan Hora |
Starting lineups

Great Britain

Martin 2B
Pregnell RF
Stockford C
Darby LF
Newson SS
Peters DP
Linton P
Lee 1B
Peat 3B
Robinson CF

Netherlands

Reiph RF
Verbrugge LF
Javier DP
Dijkhoff SS
Beaumont C
Flanegin 1B
Visser P
Polonius 2B
Lourens 3B
Raap CF
Since it was the most important game for both team in the whole tournament and basicly a winner-takes-all kind of game, it wasn't any surprise to see first two innings runless. Stockford getting into a run down between second and third base was probably the most interesting play in the beginning.
In third inning the situation got quite emotional with Pregnell reaching safely third base in a very close situation and a bit hot-headed reaction by Lourens playing third base resulted in a short discussion. For more Pregnell body checked a catcher while scoring after Newson's fly out and within the seconds, players and coaches of both teams got into a hustle on the field. The referees had lots of work with cooling the emotions, but the run was given and with base on balls with bases loaded, Stockford followed few moments later with another run.
The Dutchmen bounced back in bottom of fifth inning, when they managed to get two runners into a scoring position on second and third base. Reiph tripled into left field just behind Darby who almost reached the ball. He didn't though and Wouters with Rietvink arrived home safe and sound with points that evened the game.
Ames reacted with immediate substitution in the left field giving Darby some time to prepare for pitching in the end. Similar move came also by Nukunuku who returned Visser on the board after substituing him with Baanen for top of the fifth inning.
Darby slipped during his first pitch, but he was able to continue and kept the scoreline even. With game going into the seventh inning, every mistake could be crucial. The Brits didn't score, so the Dutchmen had it in their hands. Lourens went at bat and already had two strikes, when he hit an aboslutely amazing inside-the-park walk-off home run into left field to finish the game!
"I had a good contact on the ball and I won it. How can you be more happy than this," he asked afterwards.
Post-game comments
Israel Nukunuku (Netherlands): It was a hard game. In fifth inning we have tied the score with two runs and we were back in the game at that moment. The finish was awesome. We had a better luck today and reached for a medal which is great. The seventh inning was something like a softball dream. I was still fighting for my post as head coach of Netherlands´ team. And I go on.