Marunov 1-hitter earns Israel 5th place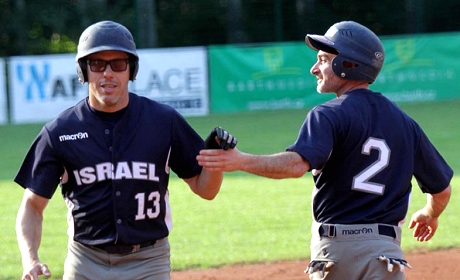 In one of the best pitching performances of this tournament, Michael Marunov allowed only 1 hit, as he pitched a complete-game shutout and his Israel team beat Belgium 4-0 to finish fifth place. Yaniv Rosenfeld hit a home run in the second inning and a triple in the seventh, as Israel added 3 more runs to secure the win.
date: 19.07.2014
time: 15:00
areal: Havlíčkův Brod
Inning
1
2
3
4
5
6
7
T
R
H
E
Israel
0
1
0
0
0
0
3
4
5
2
Belgium
0
0
0
0
0
0
0
0
1
2
| Winning Pitcher | Losing Pitcher | Umpires |
| --- | --- | --- |
| Michael Marunov | Kristof van Aarsen | Jesper Arno, Christian Singer, Jan Hora |
When the two teams met in the first round of this tournament, the Belgians won 6-4, and most people were expecting Belgium to win again and take fifth place. They weren´t counting on a masterful pitching performance from Michael Marunov, who limited the Belgians to just 1 hit in the game.
Yaniv Rosenfeld led off the second inning with a home run to right-center field, and for the first 6 innings that was the only run of this game. In fact, after 5 innings there had only been 3 hits in the game, all by Israel, as Marunov mowed down the Belgian lineup and Kristof van Aarssen pitched well for Belgium. Both pitchers got strong defence behind them, as Marunov actually struck out only 4 Belgian hitters in the game and van Aarssen only 3 Israelis.
It looked like Marunov might be tiring in the sixth inning when he gave a lead-off double to Wout Cnops, followed by a couple of fly-outs to the outfield, but he got out of the inning with Cnops stranded on third base. Then Rosenfeld led off the seventh with a triple to right field, opening the door to a 3-run inning. The Belgians then went down in order to close out the game, giving fifth place to the Israelis.