Czech Republic controlled golden win from start to finish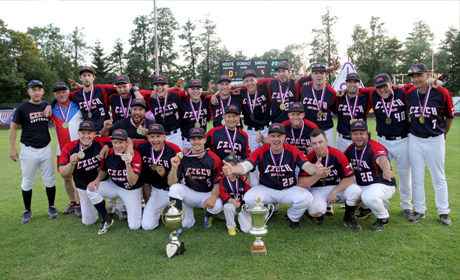 First team to win the European Championship in 15 years at home is national team of the Czech Republic, who showed quality going through the whole tournament unbeaten. They faced Denmark three times in the tournament and gone out victorious in each of these occasions.
date: 19.07.2014
time: 18:00
areal: Havlíčkův Brod
Inning
1
2
3
4
5
6
7
T
R
H
E
Denmark
0
0
0
0
0
0
2
0
Czech republic
1
2
3
2
8
11
0
| Winning Pitcher | Losing Pitcher | Umpires |
| --- | --- | --- |
| Jaroslav Breník | Kim Hansen | Raoul Machalet, Brian Aron, Benny van Nuffel |
Denmark

V. Terkelsen 1B
Jorgensen C
F. Terkelsen CF
Julenon DP
Sillemann LF
A. Hansen 3B
Simonsen RF
Brewerton 2B
Kihlgast SS
K. Hansen P – flex

Czech Republic

Mertl C
Vacha CF
Kolkus 1B
Svoboda 2B
Benda LF
Kadecka 3B
Rizek DP
Petr SS
Nezbeda RF
Brenik P – flex
Brilliant start for the home side and just what all of its players wanted was a lead after first inning. Benda reached a nice hit with a topclass diving catch and Brenik let only one hit and a base on balls. On the other side, first two batters doubled into left field, which resulted in a 1-0 lead.
Second inning almost repeated the first one. The Czechs were solid in defence and scored in bottom. With two runners already out, Nezbeda and Petr managed to hit and got on base. Mertl was up next and the ball exploded from his bat between centre and right field. F. Terkelsen didn't reach for the ball and Mertl went for inside-the-park homer getting out in front of the home base. Still getting 2 RBI though.
V. Terkelsen was very close to a home run in the third inning, but Vacha caught the ball flying right above the outfield fence. On the other side the Danish defence wasn't in its best by far. Misunderstanding with a bunt on two outs cost them a run when there was nobody on first base to ground out Benda. Kadecka singled for an RBI as well as Rizek.
In fourth inning, the Czechs needed four more runs to finish the game or score at least once and defend top of the fifth. V. Terkelsen went to pitch against the Czechs, but Mertl and Vacha got on base and were in a scoring position after a wild pitch. Kolkus hit single resulting into 2 RBI. That was all from the Czech side in the inning, but they managed to defend all the way through the top of the fifth and when Kadecka grounded Jorgensen out on first base, the game was done.
Post-game comments
Jens Terkelsen (Denmark): Well I'm obviously disappointed, that we couldn't give the crowd a closer game. However it was a good game, there were lots of good plays. Benda made a fantastic catch in the first inning. We hit two balls that could have been home runs, but they were caught on the fence. They had a really strong team and I think we fought for it, but we maybe sort of ran out of gas.
Tomas Kusy (Czech Republic): It's awesome! The boys did well and I'm happy with their attitude to this game. Jarda Brenik pitched very well, but he could still improve a bit. However it is awesome to be the first team to win home championships in 15 years and we're glad we broken the streak of bad luck for.