Czechs open on home field with 17-0 crushing of Croatia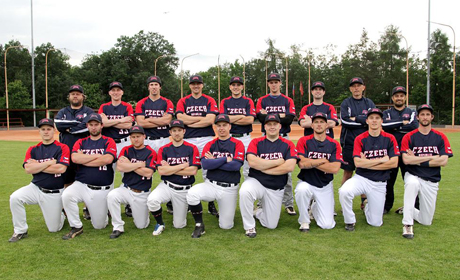 On their home field, team Czech Republic began this European Championship in a big way, defeating Croatia 17-0 in just four innings. Karel Kadecka led the parade with a two-run home run in the third inning and had 3 RBI in the game, as did Tomas Klein and Bartolomej Rizek.
date: 14.07.2014
time: 11:15
areal: Havlíčkův Brod
Inning
1
2
3
4
5
6
7
T
R
H
E
Czech republic
4
3
6
4
17
7
0
Croatia
0
0
0
0
0
2
2
| Winning Pitcher | Losing Pitcher | Umpires |
| --- | --- | --- |
| Jetmar | Ivancic | Arno - Machalet - Mastalerz |
The Czechs started strong and never let up, scoring 4 runs in the first inning, 3 in the second, 6 in the third and 4 more runs in the fourth and final inning, in a mercy-rule-shortened 17-0 win over Croatia in the first game for both teams at the 2014 European Softball Championship.
"We did a good job," understated Czech coach Tomas Kusy. "Our players kept to the game plan and I´m very satisfied."
Amazingly, the Czechs scored those 17 runs on only 7 hits and no Czech batter had more than one hit, as Croatian pitcher Marko Ivancic walked 16 batters, including designated player Bartolemej Rizek and shortstop Tomas Petr three times each.
"We have two games today so we decided to try out a new pitcher," explained Croatian coach and first baseman Vladimir Hajak. "The Czech team was very good and I congratulate them, but we have to have better pitching and better hitting in our next game. We´ll try to compete better against Great Britian this afternoon."
When the Czechs did get hits, they were usually for extra bases. In his only at-bat of the game, Rizek hit a three-run triple in the first inning, Karel Kadecka crushed a two-run homer over the center-field fence in the second, Petr doubled down the left-field line in the third, and Tomas Klein hit a two-run triple in the fourth.
Czech pitcher Ales Jetmar struck out 5 Croatian batters and gave up 2 hits in three innings of work. Miroslav Mueller then struck out 2 in a three-up, three-down fourth inning to end the game.
"This game was something like warm-up for our upcoming games," said Kusy. "I´m glad that we the chance to get some different guys into the game. Our second pitcher got his chance to get some work in."
Player-coach Hajak in the second inning and Matej Kamenski in the third were the only two Croats to get hits, but were stranded on second and third base, respectively. With 6 catches, Croatian left fielder Damir Mandic was responsible for half of his team´s put-outs in the game.