Croats improve vs GB, but still fall 8-3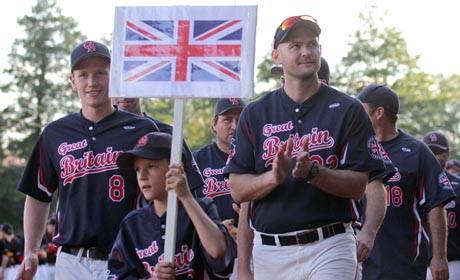 After a disastrous first game of the tournament, Croatia bounced back with a much stronger effort, eventually falling 8-3 to a strong British team, which was playing its first game of the tournament. Darryl Hermann went 2-for-2 with 2 RBI to lead the British offence, while Hrvoje Jerbic had 2 RBI for Croatia.
date: 14.07.2014
time: 16:00
areal: Pardubice
Inning
1
2
3
4
5
6
7
T
R
H
E
Croatia
0
0
0
3
0
0
0
3
4
2
Great Britain
5
0
0
0
2
1
8
13
0
| Winning Pitcher | Losing Pitcher | Umpires |
| --- | --- | --- |
| Darby | Kukolja | Howie Litz, Jan Hora, Brian Aron |
In their first game of the tournament against the host Czechs, Team Croatia surrendered at least 3 runs every inning and fell 17-0 in a mercy-shortened game. In their second game, Great Britain scored 5 times in the first inning, and it looked like it would be another short game. However, they played much better the rest of the way and lasted the full seven innings, with the final score a much more respectable 8-3.
Great Britain started hitting in their very first inning of tournament. Josh Peat led off the bottom of the first with a double down the right-field line, then advanced to third base on an error and scored on a single, as the first four British batsmen all reached base. After number-seven hitter Darryl Hermann singled home two runs it was 5-0 with only one out. Pitcher Bruno Kukolja was getting lit up, but he recovered to get out of the inning without any more damage, then gave up only 3 more runs the rest of the way.
"Great Britain played well, especially at the start," said Croatian coach and first baseman Vladimir Hajak. "They went up 5-0, then we got some runs but not enough. They deserved to win."
Croatia kept Britain from scoring the next three innings and scored their first 3 runs of the tournament in the fourth inning. After James Darby pitched three shutout innings, Gareth Jooste entered in the fourth and hit his first batter, Sasa Dokmanovic. Mislav Babic then ran for Dokmanovic and went to second on a wild pitch, Damir Mandic walked, and then Christian Sket and Hrvoje Jerbic both singled to drive in 3 runs. Jooste then settled down and got out of the jam, but Darby came back into pitch after Jooste gave up a lead-off hit in the fifth. In the six innings he pitched, Darby gave up only 1 hit and struck out 15.
"The game was a little longer than we anticipated; a little over two hours," said British coach Norm Ames, who was not the only person expecting a short game after the first inning. "We tried to experiment a bit, got another pitcher into the game. But the main thing is we won, which we´re happy about."
Britain did win and eventually restored their 5-run lead with 2 runs in the fifth and 1 more in the sixth, for an 8-3 final. But although the Croats fall to 0-2, they can be a lot happier with their performance in this second game.