Huge win for the Dutch with 8 runs in the final inning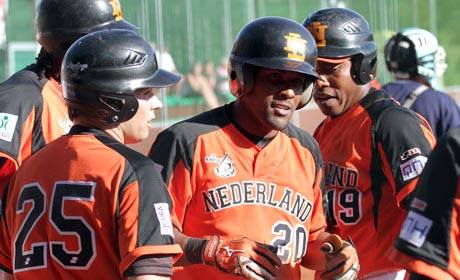 Game between the Netherlands and Israel ended with a huge gap in the scoreline, but the Israeli players held pretty good most of the time. However, their blackout in defense in the seventh inning resulted in eight more runs for the Dutch.
date: 14.07.2014
time: 17:00
areal: Havlíčkův Brod
Inning
1
2
3
4
5
6
7
T
R
H
E
Netherlands
1
1
0
3
0
0
8
13
16
1
Israel
1
0
0
0
0
0
0
1
2
2
| Winning Pitcher | Losing Pitcher | Umpires |
| --- | --- | --- |
| Visser | Marunov | Paul Mastalerz, Christian Singer, Benny van Nuffel |
Netherlands

Reiph 3
Polonius 4
Javier DP
Dijkhof 6
Beaumont 2
Lo-a-tjong 5
Brooks 9
Raap 7
Visser 1-flex

Israel

Ruggill 8
Siegel 2
Yaakov 6
Y. Rosenfeld 4
Scioscia 3
Spira 9
Tomer DP
Kaim 7
Brown 5
Marunov 1-flex
The Dutchmen took the lead in the first inning when Polonius scored after Javier's double, but the Israeli players replied immediately in the bottom of the same first inning. Rosenfeld's hit into the right field whilst having two outs already gave the room to Ruggill to finally get home from the third base.
In the second inning, the Netherlands took back their lead with another single RBI and Lo-A-Tjong's successfull run. Visser then threw three strikeouts to keep the lead, but Israel defended brilliantly as well until the fourth inning, when Reiph hit an inside park homerun into the central field resulting in RBI triple and a comfortable lead for the Dutch.
The rest of the game was totally under control of the Dutch team as they were able to close early every try of their opponent to score. They loaded all the bases themselves in the sixth inning and one complete run was missing to finish the game by a difference, but the Israeli handled this difficult situation quite well and kept the gap at 4 runs.
However, the final inning was quite cruel to Israel as the Dutch scored eight more runs and completely destroyed their opponent's defense, which make an error after error. Final win therefore didn't quite reflect the picture of whole game, but the Netherlands deserved their win for sure.
Post-game comments
Nathan Nukunuku (Netherlands): The start was slow, but with some time, we got more into the game. We managed to hit some good balls and the end was great.
Lukáš Nejedlý (Israel): We were poor at bat, but in defense, there is not much to complain about. Up to the 7th inning, it was 1:5 so the final scoreline is a bit cruel to us. We were also saving the pitcher in the end.