Danes have their rematch, Netherlands finish bronze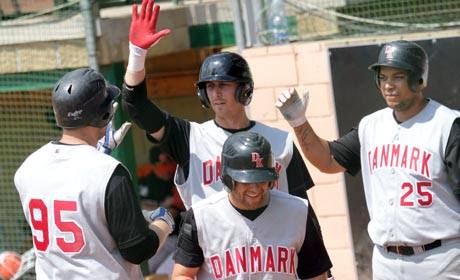 The second semifinal belonged to Denmark and, just as in the previous mutual game, they defeated the Netherlands by 7 runs. Kim Hansen pitched through the whole thing with no runs against allowing only 2 hits and 1 base on balls with 9 strikeouts.
date: 19.07.2014
time: 12:30
areal: Havlíčkův Brod
Inning
1
2
3
4
5
6
7
T
R
H
E
Netherlands
0
0
0
0
0
0
2
1
Denmark
1
0
0
4
2
7
9
0
| Winning Pitcher | Losing Pitcher | Umpires |
| --- | --- | --- |
| K. Hansen | Visser | Jan Hora, Raoul Machalet, Howie Litz |
Starting lineups

Netherlands

Verbrugge LF
Raap CF
Dijkhof SS
Flanegin 1B
Beaumont C
Brooks RF
Wouters DP
Rietvink 2B
Lourens 3B
Visser P

Denmark

V. Terkelsen 1B
Jorgensen C
F. Terkelsen CF
Julenon DP
Silleman LF
A. Hansen 3B
Simonsen RF
K. Hansen P
Brewerton 2B
Kihlgast SS
The Danes wanted the rematch with the home side and started well. Already in first inning, Silleman's single with F. Terkelsen on second base sent Denmark in front. Later on in the game, it was more or less a battle of two great pitchers Visser and Kim Hansen, until Visser allowed a solo home run to Andres Hansen in the fourth inning.
Nukunuku decided to make a change and sent Nieuwenhuizen to pitch, but it didn't help. Maybe the opposite. V. Terkelsen was first at bat against Nieuwenhuizen at doubled for an RBI. He advanced to third base on passed ball and next, Anders Jorgensen hit a home run as well making it by five runs already.
The situation called for a run or more from the Dutch to reply and keep the game interesting, but Hansen was pitching perfectly. He added two more strikeouts and the Dutchmen had to focus on defense again so the game wouldn't end after the bottom by a mercy rule, but that was just what happened.
Jens Terkelsen sent Mortensen and Weichardt to pinch hit for A. Hansen and Simonsen and they delivered the hits. Weichardt's RBI made it 0:6 and Mortensen finished the game with his run on a fielding error by Dijkhof.
Jens Terkelsen (Denmark): I feel really good. It was nice we didn´t have to stay out in the heat very long. I think the boys did very well, we held them as we should. Little slow start, but we kept going and I´m especially very pleased with the pinch players coming into the game in the last inning. They´ve been sitting a lot, but they came and scored those two runs just like that.